Nike's Extraordinary Hawaiian Adventure!
Click on an image to see the 800x600 version (~100kb)
---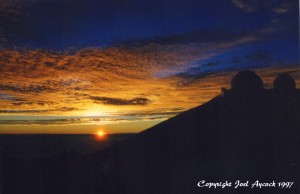 Sunrise on Mauna Kea- this was just before Nike arrived, but I like the photo!
(IRTF and CFHT in foreground)





---


My neice Nike visited from Seattle in October 1997- we rented a vacation cottage for a few days, at "Beach69" (near Puako on the Big Island). Beach69 is one of my favorite beaches...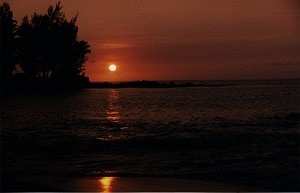 The cottage was very nice, about 100yds from the beach- we used it as a base of operations for a bit of snorkeling, kayaking, and sunset-watching...
Pu'u O'o (the volcano near my home on the windward "wet side" of the island) has been very active-
The volcanic haze makes for some gorgeous sunsets...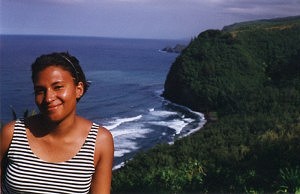 Day-tripping on the "dry-side", we did the short hike into Palolu Valley-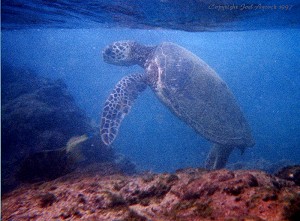 There are lotsa sea turtles along the Kohala coast- they are endangered, protected by law, and have no fear of terrestrial bipeds... they will pretty much ignore swimmers- you can get close enough to touch them while they are hunting.
This close encounter at Mauna Kea Beach was captured with a cheap disposable underwater camera- this turtle was about 5ft in length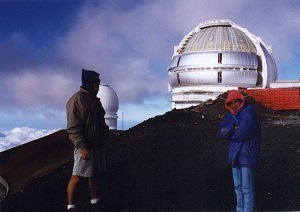 Departing the beach cottage (after a final morning swim in the warm ocean!), we drove to 14000ft on the journey home, to visit my workplace...
Here is a not-quite-adequately-bundled Nike (temp was near freezing with 20mph winds) and my friend Jerry Rochford, posed before one of Mauna Kea's newest telescopes- the US/UK 8meter Gemini Telescope
(which I think looks very much like something out of a 1950's Japanese sci-fi flick)



Later in the week, Jerry ferried us to where the Earth meets the Sea- lava flows from Pu'u O'o entering the sea at Waha'ula
Access is from the Hilo end of the old Kalapana Hiway, which was wiped out by lava flows in 1987. The homeowners of the Royal Gardens subdivision, who were cut off by the flow, had bulldozed a (very) rough 4x4 road across the flows- unfortunately, this new road was also covered by recent flows.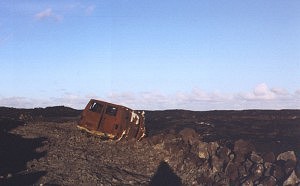 The existing road remnant is a not-too-difficult 30-minute 4-wheel drive trek (tho the sharp broken lava may wreak havoc with your tires), or a fair hike (90min each way?), to the place where flows are currently reaching the ocean. Views can be spectacular- I recommend arriving at the flow at least 30 minutes before sunset, and staying til well after sunset, for greatest visual effect.
(of possible interest is a local makeshift "tour", leaving from Kalapana, that will ferry folk in a 4x4 pickup to the flow just before sunset, for a fee of $40/head)
(photo above is NOT of the tour van!)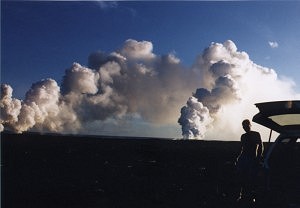 On reaching the end of the 4x4 road, the two flow fronts were visible as vigorous steam plumes rising from where lava entered the sea, an easy 15 minute walk across pahoehoe flows (some are -very- recent: we could see lava still glowing red only a few inches below our feet, thru the cracks..)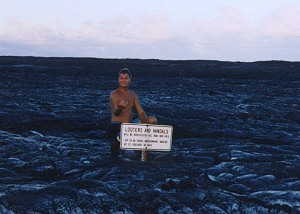 The flows enter the ocean near the old site of the Volcano Park Wahaula Visitors Center- this structure was destroyed by lava several years ago, and some remains are still visible here.


Be aware that these lava flows are very volatile- they may change radically from day to day, or even from hour to hour... these photos were taken on Oct 15 1997- the flows you see here may not exist by the time you read this (eruption updates can be found at USGS Hawaii Volcano Observatory and SOEST Volcano Watch). Also please be warned that walking near or upon active flows can be dangerous- lava is hot, massive, and viscous- there may be rivers of the stuff moving beneath your feet, that can erupt to the surface, or cause the earth to move beneath you.
Also- the lava freezes as it reaches the sea, and can build large ledges that extend outward from the coastline, and are virtually unsupported- "bench collapses" are common, and involve large areas of coastline (often 50x100 yards) suddenly falling into the sea... this can be dangerous (as you might guess). One photographer was killed, and 22 spectators were injured, during a collapse in 1993, and in January of this year, an area of 26 acres fell into the sea, over a period of two hours (!!!)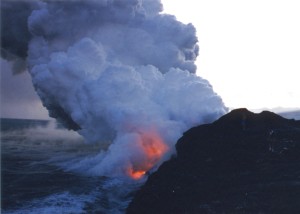 Nevertheless... we were able to walk up to the edge of a low cliff, and look down onto where a lavatube was emptying into the sea- closest approach was perhaps 10-15 yds from the hot lava.
Note the steam rising from the ocean- evidence that there are lavatubes discharging molten lava beneath the ocean surface, just offshore..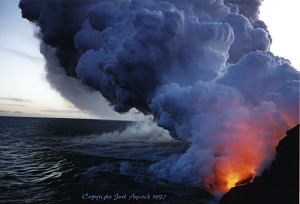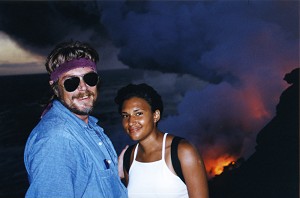 ==> Nice finale to The Big Island Trip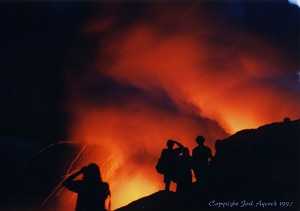 Twilite of the Gods.
---